Stocks taking the greatest actions in the premarket: MicroStrategy, Coinbase, Raven Industries and more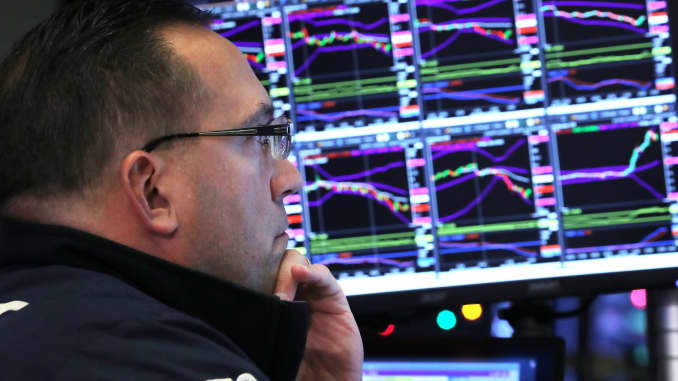 MicroStrategy (MSTR) – MicroStrategy shares tumbled 8.7% in premarket trading in the midst of a slide in bitcoin costs following the extension of China's crackdown on bitcoin mining. The business analytics organization is among the greatest corporate investors in bitcoin, with a few billion dollars in holdings on its books.
Coinbase (COIN) – The cryptocurrency platform's stock slid 3% in premarket activity, additionally hit by the drop in cryptocurrencies in the midst of the most recent activities by the Chinese government.
Raven Industries (RAVN) – Raven consented to be purchased by fellow agricultural equipment maker CNH Industrial (CNHI) for $58 per share, or $2.1 billion, contrasted with Raven's Friday close of $38.62 per share. The stock took off 49.7% in premarket trading.
ZipRecruiter (ZIP) – The jobs website operator's shares rose 2.8% in the premarket after Goldman Sachs evaluated it "buy" in new coverage and Evercore started coverage with a rating of "outperform." The upbeat appraisals refer to ZipRecruiter's development possibilities and capacity to disturb the employment market.
(HSBC) – HSBC sold its French retail bank to private-equity firm Cerberus Capital for 1 euro, and hopes to book a $3 billion loss after unloading the unprofitable operation.
Pershing Square Tontine Holdings (PSTH) – The SPAC constrained by tycoon financial backer Bill Ackman concluded a deal to purchase a 10% stake in Universal Music from Vivendi. The deal values Universal Music – the world's biggest music organization – at about $40 billion. Shares acquired 1.1% in the premarket.
GlaxoSmithKline (GSK) – Glaxo is set to cut its dividend, as per a report in the U.K's. Daily Mail paper. The drugmaker will hold an investor event on Wednesday, and the paper said a cut of as much as 50% will be uncovered at that meeting.
Tesla (TSLA) – Former Tesla leader Jerome Guillen sold about $274 million in Tesla shares since June 10, as per a Securities and Exchange Commission filing. Guillen left Tesla recently following 11 years, most recently running the organization's Tesla Heavy Trucking unit.
American Airlines (AAL) – American Airlines will cut planned flights for the first half of July by around 950 flights, or 1%, to relieve strains on its operations as it manages the sharp bounce back in travel demand.
Westlake Chemical (WLK) – Westlake will purchase the North American building products business of Australia's Boral for $2.15 billion. Westlake said the obtaining will support its essence in products like roofing and siding, and that it will be accretive to earnings during the first year.
Amazon.com (AMZN) – Amazon's two-day Prime Day event is in progress, the first time the event has been held in June. Various other significant retailers – including Walmart (WMT), Target (TGT), Kohl's (KSS), Macy's (M) and Costco (COST) are holding contending sales events this week.
Boston Beer (SAM) – Guggenheim rehashed its "buy" proposal on the Sam Adams beer brewer, and raised it to "top pick" status. Guggenheim noticed a discouraged valuation, simpler retail comps starting in June and underappreciated development prospects for the Truly hard seltzer brand.
About Author
Disclaimer: The views, suggestions, and opinions expressed here are the sole responsibility of the experts. No  journalist was involved in the writing and production of this article.